menu
close menu
Latest News
XOLOS INTERNATIONAL CUP CROWNS CHAMPIONS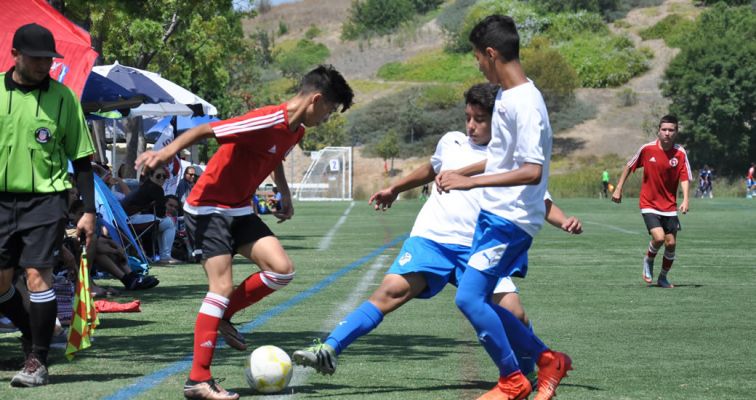 Club Tijuana teams earn titles, Xolo Mayor and Xolo Girls visit
SAN DIEGO – (July 30, 2017) –Club Tijuana Xoloitzcuintles can claim another successful event north of the border. Another community engaging exercise was completed with the second annual Xolos International Cup in San Diego this past weekend.
More than 50 teams competed in the high-caliber tournament played at three locations in San Diego County. Alliant University, Challenger Middle School and 4S Ranch Sports Park hosted matches. Boys competed in the Under-9 to Under-17 categories. There was also an Under-19 men's bracket and three girl's brackets (Uner-9, U-10 and U-13).
It was the second edition of the Xolos Academy FC tournament in San Diego, featuring some of the top teams in Southern California and from South of the border.
Xolos Academy FC is the Club Tijuana youth development program in San Diego. It was represented well in the tournament and so were Club Tijuana's reserves squads. Both Xoloitzcuintles entities had several teams competing in the tournament.
Club Tijuana's 2003 squad clinched the Under-15 title with a win against Xolos Academy FC's Under-14 squad. The Club Tijuana 2002 team beat Matrix South Bay in the Under-16 title. Those were two of nine overall titles earned in this year's version of the tournament. Xolos Academy FC also clinched a title, taking the Under-14 championship.
The tournament also had special visitors with coaches from Club Tijuana's reserve teams keeping an eye on players in case there was talent worthy of being part of the "Fuerzas Basicas" in Tijuana.
And to make things fun for the athletes, Club Tijuana's official mascot the Xolo Mayor paid a visit to the games at 4S Ranch Sports Park. He even helped with the coin toss in one of the first-round matches. Members from the official Club Tijuana cheer squad were also there to support the teams. They posed for photos with players and family members while adding to the atmosphere. The Xolo Mayor visited every field during his visit much to the joy of the young athletes.
Here is a list of the 2nd Xolos International Cup champions:
Boys
Category                   Champions
Under-19                   Milan Black
Under-17                   Total Futbol Academy San Diego
                                    Barca Cantera
Under-16                   Club Tijuana 2002
                                    Leon Juventus
Under-15                   Club Tijuana 2003
Under-14                   Fontana FC
                                  Xolos Academy FC
Under-11                   Palm Desert
Under-10                   SDSC White
Under-9                     Club Libertad Tijuana
Girls
Category                   Champions
Under-14                   Leon
Under-11                   Atlante
Under-10                   Bonita Matrix