menu
close menu
Latest News
UNITED FOR CYBER SAFETY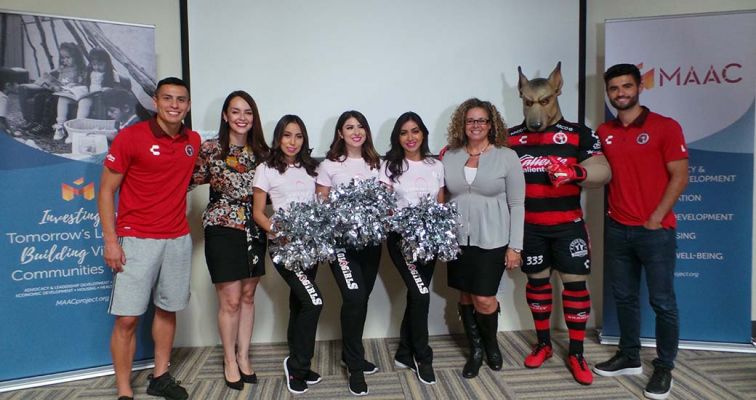 Club Tijuana and COX visit MAAC Project in San Diego
CHULA VISTA  –Club Tijuana Xoloitzcuintles is always looking to fill an opportunity to be involved in the community. On both sides of the border.

This time, it was the Xoloitzcuintles joining forces with its sponsor Cox Communications to help promote online safety. Both organizations paid a visit to MAAC Project Community Charter in Chula Vista Thursday. Hundreds of students ages 14 to 24 got a chance to hear some words of wisdom from local educators and from the Xoloitzcuintles.

Alejandro Guido, Rubio Rubin and Erick Torres visited the school in South San Diego County, mingled with the students and faculty. The trio of players also stayed for an autograph session.

"It's terrific to be able to come and speak to the kids and try and give them advice," Rubin said about giving a short speech in front of a packed hall with students from San Diego and Tijuana. "They are all about using the internet and social media, so, to give them some tips to be safe online is a fulfilling thing to do."

What the Club Tijuana players did was make a connection with the students, some who have graduated from high school in Tijuana and have decided to expand their education in San Diego. The MAAC Project school helps those students prepare for college and other career opportunities. And part of reaching those next steps mostly requires using the internet.

That's where Cox Communications comes into play. The event was part of Cox's Digital Academy's campaign "Connect2Compete." The academy focuses on giving low income families in San Diego opportunities for affordable internet and access to affordable computers.

"We are here at MAAC Community Charter School, partnering with the Xolos to put together a presentation on digital safety," said Ceanne Guerra, Cox Communications Media and Public Relations manager. "It's designed so that teens and adults know how to manage social media and the dangers of social media."

Members of the local media were there to cover the event that included visits by the Xolo Mayor and Xolo Girls, who also posed for pictures and mingled with students.

But the main event was MAAC Community Charter School having the opportunity to be part of Cox's program.

"This event is here to help offer our students, many of them of low income, affordable internet and be able to partner to get our students connected," said MAAC Project counselor Mary Soto. "At the same time, we are letting them know how to connect in a safe manner. It's an exciting opportunity to have our students be encouraged by the Xolos and the partnership with Cox and getting them to understand the importance to have access to the internet in their homes while doing it in a safe manner."

The Xoloitzcuintles take pride in being part of these community events and helping to promote their causes.