menu
close menu
Latest News
A SPECIAL SCREENING IN SAN DIEGO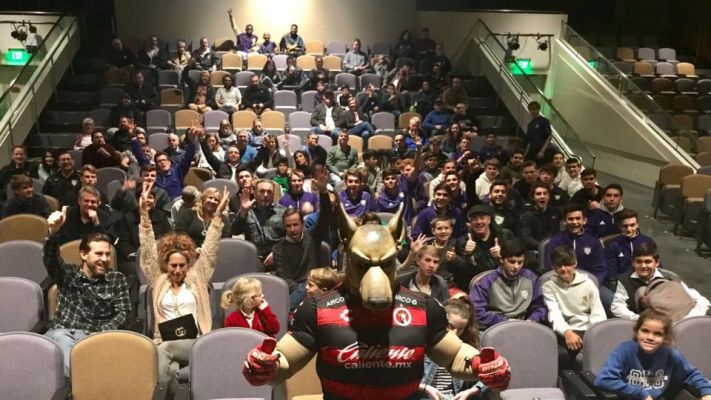 Xolos visit St. Augustine High for documentary screening
SAN DIEGO–Lights, camera…Xolo Mayor. The Club Tijuana Xoloitzcuintles mascot was part of the highlight of events at a screening of the documentary film "Xolos: Tijuana's team" in San Diego.
The film was shown at St. Augustin High School's Raymond Center for the Performing Arts Tuesday. The event was put together by film director Chris Cashman for the high school's soccer program. More than 100 people that included Saints' players, coaches, parents and staff were there to watch the documentary about Club Tijuana.
The Xolo Mayor greeted audience members as they walked into the state-of-the-art theatre and posed for pictures. He also led the group photo inside the theater.
The event came to life after St. Augustine head coach Brendan Johnston and Cashman connected on career day. Cashman had visited students to speak about being in the film industry. Cashman is a St. Augustine graduate.
"(Cashman) is a great supporter of our school and he works here now," Johnston said. "It's pretty cool that someone I knew in the 1990s has circled around and is doing things to help our program."
As for making the film available to student athletes, Johnston said it was ideal.
"We have a big Hispanic community here and a lot of them cross the border every day," Johnston said. "And for our guys that don't, I think it's cool for our guys to see something they don't get to see every day. Soccer is soccer. It doesn't matter where it is. It's still soccer. Seeing this experience around San Diego and the area and another country is a great experience."
The experience at the screening included a question and answer session by Club Tijuana Vice President Gog Murguia. He spoke about the meaning of having the film showed in a community setting.
"Besides the documentary, it means for us that we are getting involved in a cross-national developmental process," Murguia said. "It's a cross-national branding process. It means we've become a regional team not only of Tijuana but it means we've crossed borders. It's expanding our Horizons and our markets. This helps San Diego feel like this is its team and we can get across to these young players"
Murguia said that more importantly, the event was for the student athletes. After all, Murguia played soccer at St. Augustine's biggest rival in what was the University of San Diego High School (now Cathedral Catholic).
"I've been sitting where these kids are sitting," Murguia said. "It's very intimate because it motivates me to talk to them. I would have liked someone from a professional team come to be interested in our young players. I lived it. I know what they are feeling. I've been there."