menu
close menu
Latest News
AN AMERICAN DREAM IN MEXICO

Alejandro Guido living his dream with Club Tijuana
TIJUANA –Alejandro Guido found his future in a Facebook message. He has always been the casual social media user but on this particular day he logged on to find a personal message that would send him on the journey he always wanted.
Guido opened the Facebook message from Club Tijuana. The Xoloitzcuintles were interested in giving him a tryout session but couldn't find a way to reach him until the team's videographer found Guido's profile online.
"I was in Holland when they contacted me and I didn't have a chance to (come) here for a tryout at the time," Guido said. "It wasn't until I came here for Christmas vacation and had the opportunity to train here."
Club Tijuana contacted Guido after team officials heard about him and saw him play in the 2011 FIFA Under-17 World Cup in Mexico. The team knew they wanted him but he was nowhere to be reached. The 17-year-old at the time was across the Atlantic Ocean in Holland, trying to jump start his professional career. Guido had just finished playing soccer at Mater Dei High School in Chula Vista, Calif.
After responding to the message, Guido was on his way back to North American soil for the chance of a lifetime. But it didn't come until he had faced a handful of adverse events and challenges. Guido spent a stint trying to make a career of playing soccer in Holland after he was offered a tryout with Vitesse Arnhme of the Dutch First Division. He was on trial for a short period and did not receive the contract offer he wanted. He had reached a breaking point. Decisions had to be made. Would he stay thousands of miles away from home to try and stay in the business? Would being away from his close-knit family and friends be the answer? Would being in a land where he didn't speak the local language or find a restaurant that came close to serving Mexican food that tasted like home cooking?
After reading that Facebook message, Guido made up his mind. He was on his way back. The gamble paid off. Fast forward two years and Guido finds himself in an ideal situation most soccer players only dream of.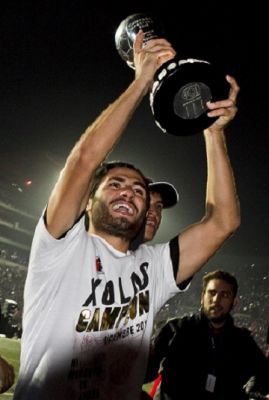 The Mexican-American no longer has to worry about long distance phone calls, long airplane rides and odd food.
No more feeling lonely and no more being homesick.
The Xoloitzcuintles midfielder is home.
Instead of dialing his parents in Chula Vista in the middle of the night from the other side of the Atlantic Ocean, Guido can walk into the next room. He lives with his parents, again. He only needs to cross the border from Chula Vista into Tijuana to practice, play and live his dream to be a professional soccer player. And he doesn't have to wait for hours at the border to return into the United States. He has his SENTRI pass which allows him to enter a much quicker checkpoint. It's a vast difference from living in Holland trying his chances on a pro club's youth team a couple of years ago.
"My expectations coming here were high, this was already a First Division team," Guido said about Club Tijuana. "Coming from Holland, it was a fast-paced team and coming here I realized how the Mexican league had a lot of technique and that there was a future for me."
Guido, now 19, came home to launch his pro career through the Xoloitzcuintles' youth farm system, moving up the ranks and getting some playing time with the senior team, eventually finding a bright spot with Club Tijuana's Under-20 team.
Instead of trying to launch his pro career with Vitesse Arnhme, Guido is a prospect that Club Tijuana sporting director Ignacio Palou says is on the verge of breaking through to having an important role with the first team.
"Alejandro is a special kind of player with a great skill set and who is developing into a great player," Palou said. "He is real close to becoming a true force and a role player on our first team."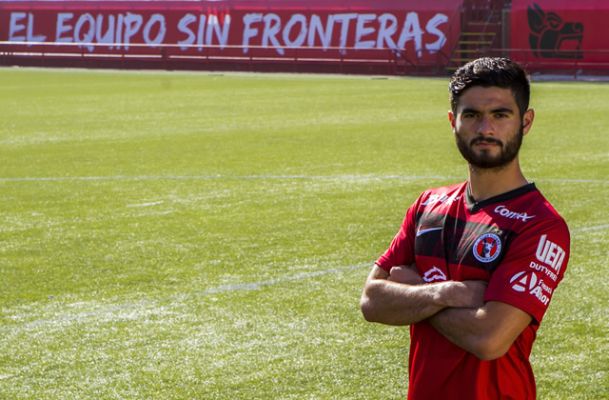 Guido is off to a fast start in the LIGA Bancomer MX-2014 Clausura Under-20 tournament. He scored in consecutive matches against Pachuca and Club America. Under-20 coach Diego Torres is using Guido out of his usual position this time around, starting Guido as a forward instead of as a midfielder. It is a move the team wanted to do last season but Guido missed most of the year with a fractured bone in his foot, an injury he suffered last summer during a preseason scrimmage prior to the 2013 Apertura tournament. He is now at full health and is making the best of it.
"My experience with Club Tijuana has been a tough one but a great one," Guido said. "I've matured a lot as a player and as a person and I keep continuing to grow as a player and as a person."
Guido made his debut in the Mexican First Division when he was 18 during a Xoloitzcuintles 2-1 win against Celaya FC in a Copa MX group stage match up. He started as the center midfield and played 71 minutes before being substituted by Luis Garcia. He played behind forwards Raul Enriquez and Raul Nava. Guido almost had a goal of his own. He sent a left-footed shot just outside the left post in the 50th minute. He had been on the bench for previous tournaments before getting a chance to play.
Guido has made the best of it since. He says it beats living in Holland as a 17-year-old, away from his family, friends and his favorite food: mom's home cooking.
"Not having more of a normal (teenage) life was difficult," Guido said. "You have your teammates but you are everywhere bouncing around without your family and your friends. That has to be one of the toughest things. But I learned a lot and I have matured faster. That's helped a lot. I am not accustomed to that (being away). It was a transitional period that helped me mature."
Then there was the language barrier.
Guido is fluent in English and Spanish but cannot speak Dutch. Lucky for Guido, who is a product of United States Soccer's ODP program based in Florida, his Vitesse Arnhme roommate in Holland spoke Spanish.
"It was an incredible experience," Guido said of his time in Europe. "I was living with one of the first team players from Ecuador (Reinato Ibarra). He spoke Spanish so that was an easy transition. Everyone else spoke Dutch. I had to get around the language, learn it. Get used to the culture. It was different but I managed and I think that helped a lot."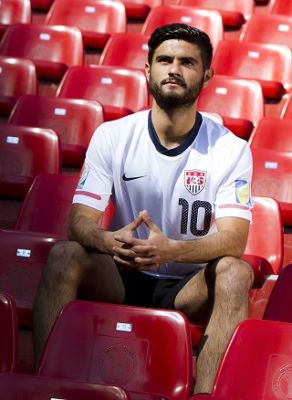 It also helped that Guido was part of the United States Under-17 squad that played in the 2011 World Cup. Club Tijuana Under-20 teammates Esteban Rodriguez and Paul Arriola were also on that squad.
"The World Cup was a marvelous experience but it is completely different from a First Division team," said Guido, who scored early in a 3-0 win against the Czech Republic. "The atmosphere itself is similar to the First Division team because of great crowds because you are playing for your country and representing them but the actual game much more different. The level of play chances. You are playing against older and mature, experienced players and in the U-17 you play against players your own age."
It was in the World Cup where the Dutch club got to see Guido play and soon after recruited the kid who grew up playing soccer at various parks in Tijuana before moving across the border to play for the Chula Vista Aztecs youth club.
"I was on my own," Guido said about his entire journey from Mater Dei High back to Tijuana. "You are 15, 16 it's pretty difficult. You learn from that. You toughen up. You grow up. Since I was little I was a mature kid. I knew my dream. I knew what I wanted. Whatever it took, I would do it to reach my dream."
A dream he might not have made a reality had he not looked in his Facebook account.