menu
close menu
Latest News
CLUB TIJUANA WINS GENERATION CUP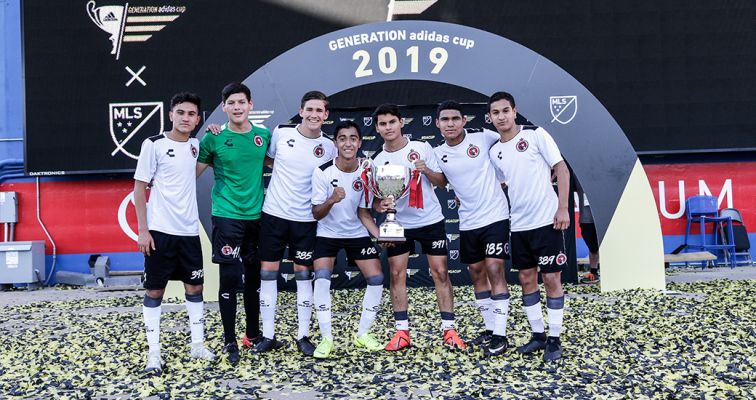 Xoloitzcuintles beat FC Midtjylland in Premier Division Final
FRISCO, Texas -Club Tijuana Xoloitzcuintles is the 2019 Adidas Generation Cup champion. The Under-17 squad representing the club beat FC Midtjylland of Denmark 2-0 to clinch the international tournament Premier Division title.
Christian Castillo and Domingo Contreras scored for the Xoloitzcuintles coached by Yasser Corona. Another international youth championship title goes back to Tijuana. This time it was Club Tijuana winning the competition organized by Major League Soccer.
Castillo helped his team to the championship with his 34th minute goal. He sent in a bouncing cross from right to left with a one-time shot from near the six-yard box for a 1-0 lead early in the second half. Teams played 25-minute halves in this final.
Domingo Contreras scored Club Tijuana's other goal in the 37th minute to give Club Tijuana a 2-0 lead. He put in a loose ball from near the left post after a header was erroneously punched by the Midtjylland goalkeeper. The ball remained in play and Contreras fought for it, beat a defender, made a half turn and fired it in for the final score of the division.
Club Tijuana reached the final after a come-from-behind win against MLS side Colorado Rapids in the semifinals. The Xoloitzcuintles overcame a 2-0 deficit to win 3-2 in overtime.
The Xoloitzcuintles moved into the knockout stage after beating Ulsan Hyundai of South Korea (2-0), Portland Timbers of MLS (1-0) and Houston Dynamo of MLS (2-1). Club Tijuana's only loss came against FC Midtjylland (3-1) in Group A play.
Coach Corona's team finished in first place in Group A with 12 points and a 4-1-0 record. Chicago Fire finished second in the group, ahead of third place D.C. United, San Jose Earthquakes in fourth and Atlanta United in last.
Teams from Group A faced clubs in Group B.
Seattle Sounders won the Championship Division Title.