menu
close menu
Latest News
Xoloitzcuintles Under-12 scores plenty

Under-13 battles out scoreless draw
CHULA VISTA - Xolos Academy FC's Under-12 team had plenty of goals to talk about Saturday. The Xoloitzcuintles beat Hotspurs USA 11-1 Nov. 1 at Hilltop High in a Week 9 match of the Presidio League.
Darian Flores scored three times while the Xoloitzcuintles got two goals from both Jan Carlo Garcia and Diego Viveros, as well as a goal apiece for Angel Bocanegra, Jorge Dominguez, Joahan Lopez and Ricky Luna lead the U-12 squad to victory on a wet yet sunny Saturday morning.
While the Under-12 team had an abundance of goals, the Under-13 team coached by Luis Guerra could not find the net in a 0-0 tie against Nado, also at Hilltop High.
Guerra's team looked for the opening goal all game long, especially during the second half when the team had several scoring opportunities through combination plays on the wings.
The Xoloitzcuintles played the match being alert of Nado's counterattacks. One of those plays required a diving save by the Xoloitzcuintles goalkeeper late in the game.
Here is the remaining schedule and results for Xolos Academy FC teams this week:
XOLOS ACADEMY FC
PRESIDIO LEAGUE SCHEDULE AND RESULTS: (WEEK 9)
Presidio League Week 8:
Saturday Nov. 1
Under-9 vs. Albion SC
at Hilltop High
9:10 to 10:20 a.m.
Under-10 vs. Albion SC South
at Salt Creek Elementary
11:30 a.m. to 12:40 p.m.


Under-12 vs. Hotspurs USA
at Hilltop High
11:00 a.m. to 12:20 p.m.
Under-13 vs. Nado
at Hilltop High
11:00 a.m. to 12:30 p.m.
Under-14 vs. Pumas UNAM
at Southwestern College
2:10 to 3:40 p.m.


Under-16 vs. Olympicos
at Otay Rec Center
2:40 to 4:20 p.m.

Under-18 vs. Hotspurs USA
at Hilltop High
1:00 to 2:50 p.m.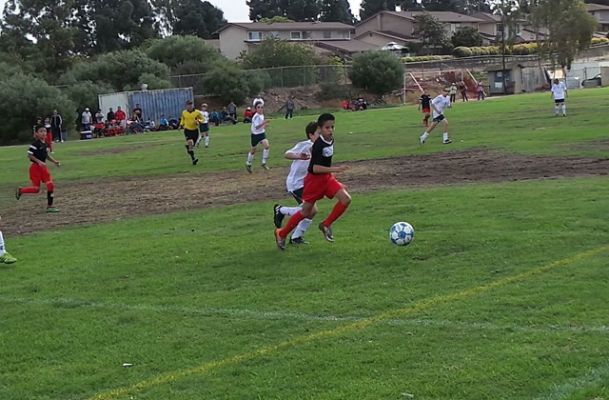 Under-13 vs. Nado