menu
close menu
Latest News
JORGE DOMINGUEZ CONTINUES CHASING DREAM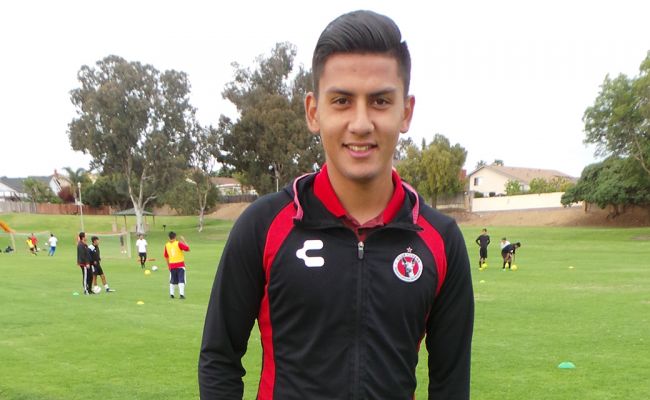 Midfielder came to Club Tijuana from Xolos Academy FC
TIJUANA (May 10, 2019) –Jorge Dominguez found his future in a social media post. At least that's what sparked the Club Tijuana Xoloitzcuintles youth player's change in life.
Dominguez was navigating through the socials, a typical day in his home in Victorville, Calif. He was a skinny 9-year-old growing up thinking about someday becoming a professional soccer player. He's a bit closer in 2019.
The midfielder is part of Club Tijuana's Under-15 that hosts Club Leon in the LIGA MX semifinals Saturday at Estadio Caliente. Dominguez has been part of the Under-15 team since the 2017 Apertura season coming up from the club's Under-13 squad. But it was a tryout in the United States that helped lead that skinny kid from Ensenada, living in California, to the Xoloitzcuintles.
"I saw a Facebook post about tryouts in Chula Vista," Dominguez said during a recent visit to the soccer program where his path to Club Tijuana began. "I showed my parent and told them this could be an opportunity for me. I wanted to go."
And he went, bringing his family with him for a permanent move in 2013. Dominguez attended the tryouts at Xolos Academy FC in Chula Vista, Calif. after seeing the post. It was a risky decision to make for Dominguez and his family. His mother, father and sister would need to move so that he could have his chance at being part of an affiliate to a professional team.
"I really wanted to be part of a club like Xolos and wanted a place that had a challenging practice schedule," Dominguez said from Los Niños Park in Chula Vista where the Under-16 Xolos Academy FC team trains. "I told my dad that we had to go and check it out."
They did more than check it out. Dominguez and his family decided to move ahead of the tryouts. It was a risky move, but it was a chance they were willing to take. Dominguez, his father Jorge, mother Laura and sister made move so that he could attend the Xolos Academy FC tryouts. The move from Victorville was on.
"It was a move for me," Dominguez said. "It was a move to help me try and go after the dream that every soccer player has, to become a pro. I didn't even know if I would stay and make the team."
He made the team playing for the Xolos Academy teams under former coach Luis Guerra.
The family had already settled into an apartment in Spring Valley, just northeast of Chula Vista. The move paid off. Dominguez impressed coaches enough that he got an invite to a week-long tryout, but this time with the Fuerzas Basicas in Tijuana. This time, it was with the developmental program in Tijuana where there is more exposure to coaches in the Mexico's pro league.
"He showed some talent and characteristics that we want as a player," said Ignacio Ruvalcaba, Club Tijuana's youth development director. "He stood out in the games and program with the teams in Chula Vista, so, we decided to give him a shot at coming to Tijuana."
The road to Tijuana was not long but it was challenging.
Dominguez was put the test when he was added to the roster to play in the Manchester City Cup in San Diego to play with the Fuerzas Basicas Under-13 team. He was a key part in the team's championship run in 2017, beating teams from the United States and England. The kid from Ensenada living in Victorville had earned his spot in Club Tijuana.
His first game with the Xoloitzcuintles was with the Under-13 team in a tournament in Mexico City in the summer of 2016. He moved up the ranks playing with the 2002 category eventually making it with his current team, the squad that hosts Club Leon in the semifinals.
Dominguez made his debut with the Under-15 team in July 2017 in a Week 1 game at Pumas.
"It was a great feeling that I knew I could reach," Dominguez said of the moment. "That is why I left Victorville. I am still far from my ultimate goal, but it was really nice to see myself dressed in the Club Tijuana uniform in an official game."
He went on to start in 13 games that season. He's been a starter since. In the 2019 Clausura, Dominguez started in 14 of 15 games, scoring three goals. He is slated to be in his first-post season match with the Under-15 Saturday night.
Dominguez credits his success to his coaches, family and teammates. But he doesn't leave himself out.
"It's also about discipline," Dominguez said about chasing his dream of playing in the Mexican first division. "It's very important to be on time, have proper nutrition, sleep well and give up some teenager things. It's very important to do all that."
And he sticks to a routine to remain at optimum shape and try to maintain a level of professionalism. He was invited by Ruvalcaba to speak to players at the Xolos Academy FC in Chula Vista as an example that they can also have a similar shot.
"Don't lose that hope and dream," Dominguez told a group of players surrounding him at a recent practice. "It's not easy. There's a lot of sacrifice but it's what you make of it."
Dominquez makes the daily trips to for practice from Spring Valley to Tijuana. His mother drives him at 6 a.m. and drives him back through lengthy border wait times. They are back home sometimes as late as 2 p.m. after a day that began at 5:30 a.m. He's not in typical school. He's taking online classes, working toward his high school diploma. Completing homework tasks for his 10th grade classes are a priority when not at training or traveling for games.
There's not much time for typical teenager social events. Dominguez' focus is on growing as an athlete and move closer to becoming a pro. He took a step closer this season. He saw his first action with the Under-17 team in official Liga MX action in a Week 15 match against Lobos BUAP. Dominguez started and played 90 minutes.
But there's still more time to go.
"I am glad I saw about the tryouts in Chula Vista on the internet," Dominguez said. "It was a risky move to come but it's worth it. I'll keep working to reach my long-term goal. For now, I am focused on this semifinal against Leon. We want to win. We want to be in the final."