menu
close menu
Latest News
2019 TRYOUTS CONTINUE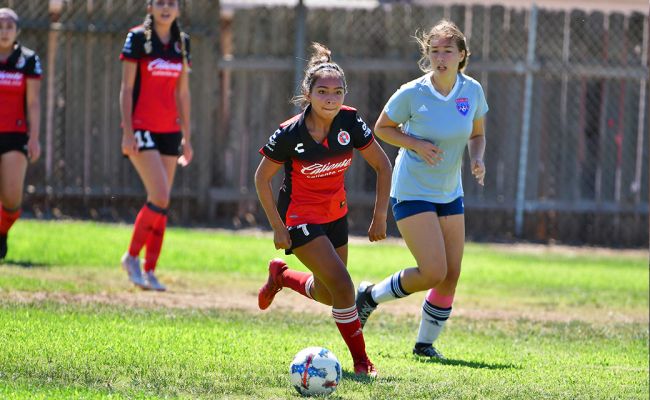 Xolos Academy FC to hold new set of tryouts for 2019 Season
The Xolos Academy FC is still looking for talent for the 2019 Presidio League season. A second round of tryouts is scheduled for Saturday May 4 in Chula Vista.

Club Tijuana Xoloitzcuintles' youth developmental program in the United States has extended tryouts at Veteran's Park in Chula Vista, Calif. as it looks for talent in the area for its category 2001 to 2014 teams. 
Spots have opened up after the first round of tryouts in March. Signups are also ongoing for players who want to be part of these teams. Athletes are welcomed to attend weekly training sessions at Los Niños Park (150 Teal St. Chula Vista, 91911) Tuesdays and Thursdays from 5 to 7 p.m.

Xolos Academy has chapters through different parts of the U.S. One of them is in Chula Vista. It's a unique entity in which it is directly tied to the professional team that competes in Mexico's Top-flight soccer league the LIGA MX. It competes in the top leagues and tournaments in San Diego as part of Cal South and U.S. Soccer. It has had teams compete in local and national competitions. It has also sent teams to competitions in South Africa and Japan. 

Young athletes in the Xolos Academy FC system have an opportunity to being scouted by the professional team in Tijuana and its Fuerzas Basicas coaches. 

The academy and teams reflect the strategies and planning that the Mexican First Division team practices, giving athletes the opportunity to be part of the Xoloitzcuintles family. Coaches from the academies teach the same or similar ideas used in the senior team for competition and development.

Xolos Academy FC is the stepping stone to what could be a bright soccer career as our athletes have the chance to move through the farm system. Here is more information about the upcoming tryouts: 

What: Xolos Academy FC is holding tryouts for young athletes in San Diego for the age categories 2001 to 2014. 

When: Saturday May 4, 2019 in Chula Vista. 
Categories 2008 to 2014 and 2001 to 2007
Girls Teams 9:00 a.m. to 10:30 p.m.
Boys teams 10:30 a.m. to 12:00 p.m.

Where: Veteran's Park
785 E Palomar St.
Chula Vista, CA 91911

How: Participants can arrive 30 minutes before the practice and register for the free tryouts session. 

Minors need parents/tutor to sign a waiver.
Field Players: White T Shirt, Cleats, Shin guards, Bottle Water,
Goalkeepers: White T Shirt, Cleats, Shin guards, Gloves, Bottle Water