menu
close menu
XOLOS ACADEMY TEAMS BEGIN 2018 LEAGUE SEASON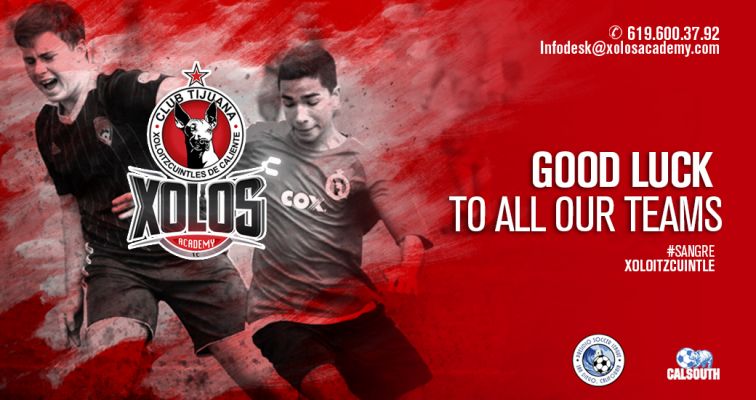 Club Tijuana developmental program teams BACK IN ACTION
SAN DIEGO (Sept. 7, 2018) –It is that time again where weekends are for youth soccer. Xolos Academy teams are back in action with the start of the Presidio League and San Diego Developmental League 2018 season.
The Club Tijuana Xoloitzcuintles developmental academy in the United States begins playing local matches Sept. 8 and Sept. 9 with four of its teams in the Presidio League and SDDA.
"It's always a fun time of the year to get our young athletes in competition," said Xolos Academy administrator Ramon Vazquez. "Our teams played in many tournaments throughout the offseason and trained nearly every day and now they are ready for league play."
Xolos Academy in San Diego enters the season with teams in the Presidio Boys 2000 and 2003 categories. In the SDDA, there are teams in the Boys 2000 and Girls 2000 categories.
The season runs through November in which the Club Tijuana youth teams face clubs from throughout the region, including some of the top programs in the United States.
Xolos Academy is a youth soccer developmental and competitive organization that serves athletes of various ages throughout the region. The academy carries the name of the Club Tijuana's professional Mexican First Division team in the LIGA MX.
The academy and teams reflect the strategies and planning that the Mexican First Division team practices, giving athletes the opportunity to be part of the Xoloitzcuintles family. Coaches from the academies teach the same or similar ideas used in the senior team for competition and development.
Xolos Academy FC is the stepping stone to what could be a bright soccer career as our athletes have the chance to move through our farm system and eventually having the possibility to be part of our professional teams. The academy has a handful of affiliate teams in the United States including in California in Los Angeles, Oxnard, Inland Empire and the Bay Area. It also has chapters in Utah and New Jersey.