menu
close menu
Latest News
WOMEN'S TEAM TRYOUTS IN BAY AREA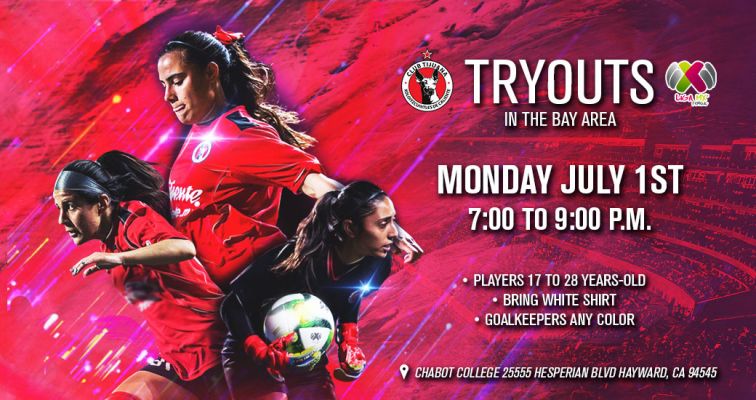 Club Tijuana looking to fill Femenil slots for 2019 Apertura
TIJUANA- Aspiring professional women's soccer players could have a chance of a lifetime. Club Tijuana Xoloitzcuintles women's team is looking for players to be part of its upcoming LIGA MX 2019 Apertura season in Mexico's top-flight league.
Tryouts will be held in Northern California Monday July 1 from 7 to 9 p.m. at Chabot College . Players ages 17 to 28-years-old are eligible for the tryouts. Club Tijuana coaches and scouts from the professional squad will be in attendance. Players should bring white shirts, black shorts and soccer cleats for grass and artificial turf. Goalkeepers can bring any color shirt.
Players selected from the tryouts could be invited to additional trials or join the women's professional squad.
LIGA MX Femenil is the first professional women's soccer league sanctioned by the Mexican soccer federation. The league established July 2017 was created to help nurture players to the Mexican National team. The league consists of 19 teams from throughout Mexico. Tigres UANL is the current champion. Before the inaugural season, teams took part in the domestic cup, Copa MX, in May 2017 with 12 of the then only 16 teams participating.
What: Club Tijuana Women's team tryouts
When: Monday July 1 (7 to 9 p.m.)
Where: Chabot College
25555 Hesperian Blvd.
Hayward, CA 94545
Who: Players ages 17 to 28
How: Show up and bring white shirt, black shorts and soccer cleats. Goalkeepers any color shirt.
MORE NFORMATION: (510) 715-2422